Posted on
By Chelsea
Posted in blueskyfibres, bronte, crochet, ecocashmere, euclan, junipermoonfarms, katiaconcept, knitting, lagom, LYS, oakville, patagonia, swatch, woolwash, yarn
The staff at Spun Fibre Arts like to think we have the best jobs in the world. We get to play with yarn all day! Part of the fun is when a new shipment of yarn arrives and we get to open the box and discover the new yarn for the first time. After the oohing and ahhing and squishing, we get to decide who will knit or crochet up a swatch or sample. Not only is working up a swatch fun, it's also a great way for us to learn about the yarn and a great resource for our customers. 
We work up a swatch or sample garment so that when you come to visit us in store we can tell you how the yarn behaves, what the best needle size is and how it responds to washing and blocking. Plus, you get to feel it and see the stitch definition for yourself. I can't tell you how many yarns knit up completely different to our expectations. Sometimes the colours blend when we thought they would stripe, sometimes the yarn blooms after blocking and grows or sometimes that scratchy natural yarn becomes silky soft after being worked and washed! While a new skein of yarn allows for so much creativity the finished fabric can often be a surprise. We take some of the surprises out of the new yarns for you so you can go into a project with the confidence it's going to work as you're expecting it to.
Take for example our Juniper Moon Farms Organic Merino "Patagonia". It's spun from GOTS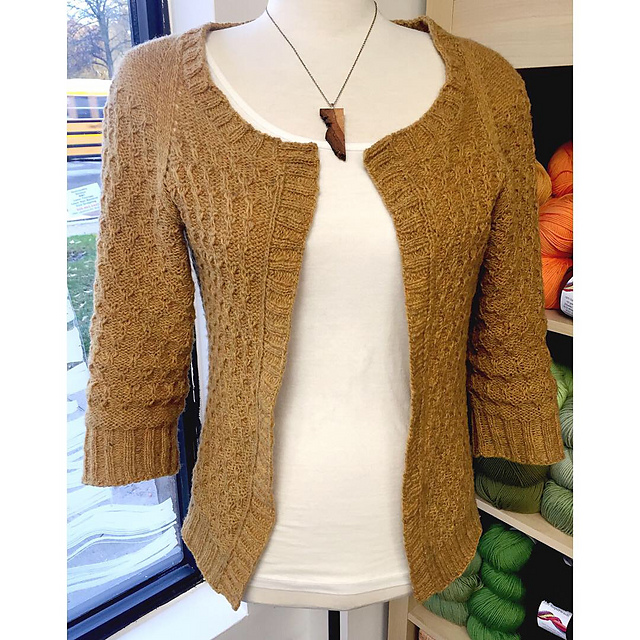 certified, sustainable, non-mulesed, pesticide-free organic wool. It is best described as rustic by those who've had the pleasure of squishing it. Tara knit up the Beekeeper Cardigan in the Mustard colourway. Tara thought Patagonia was one of those yarns that appears much more rustic in the hank than it actually is. It was a pleasure to work with and provided great stitch definition for her textured cardigan. It blocked beautifully and the final fabric is warm yet lightweight.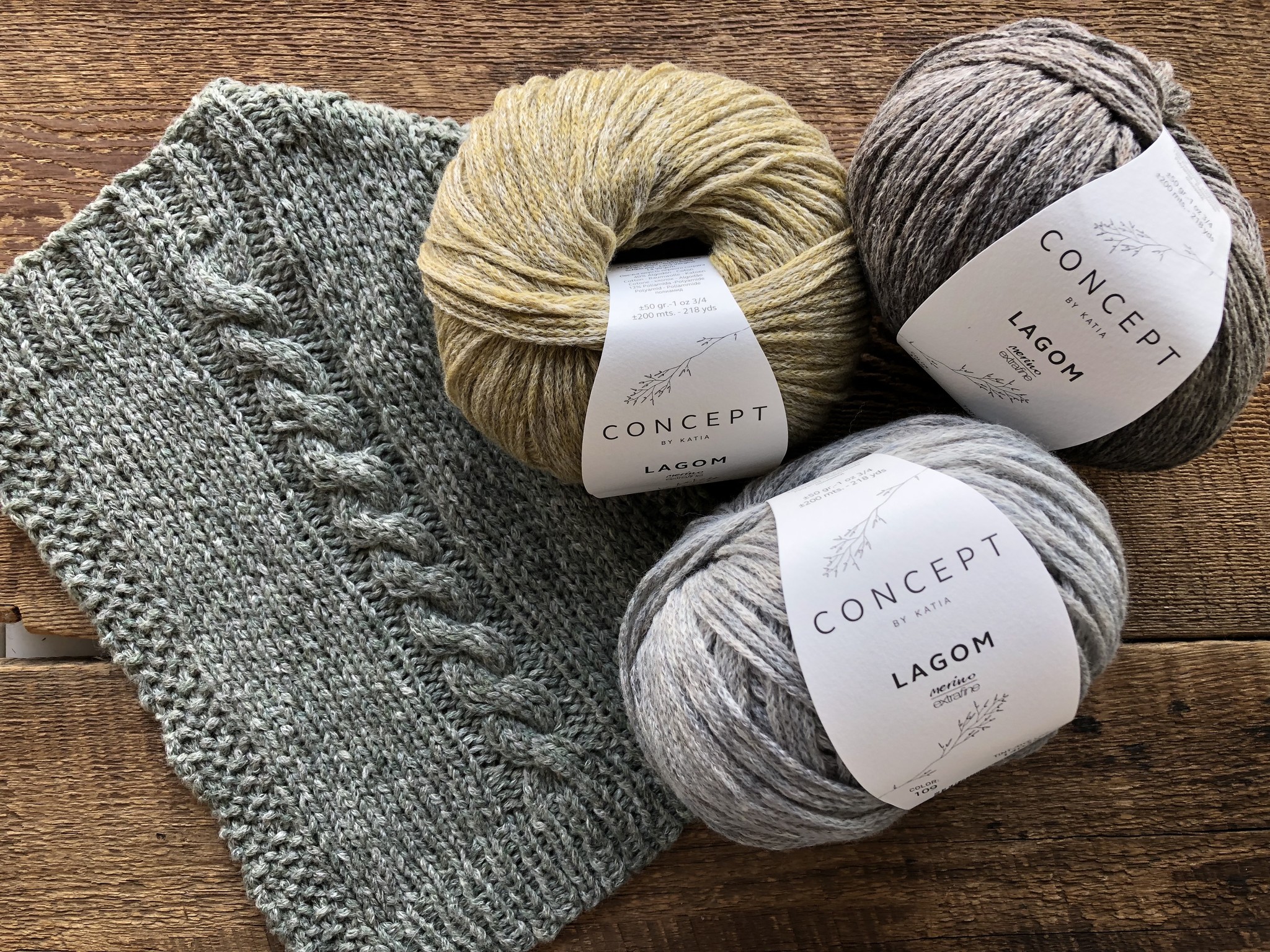 Chelsea had the pleasure of knitting up a sample of our newest Katia Concept Lagom. A wool and cotton blend yarn in soft natural and pale melange colours. This soft, padded and corded yarn is surprisingly squishy. The ball band recommends a 4-5mm needle but Chelsea knit up a swatch using 3.75mm needles and found the resulting fabric to be extra drapey and flowing. It would be wonderful as a lightweight summer cardigan or short-sleeved top.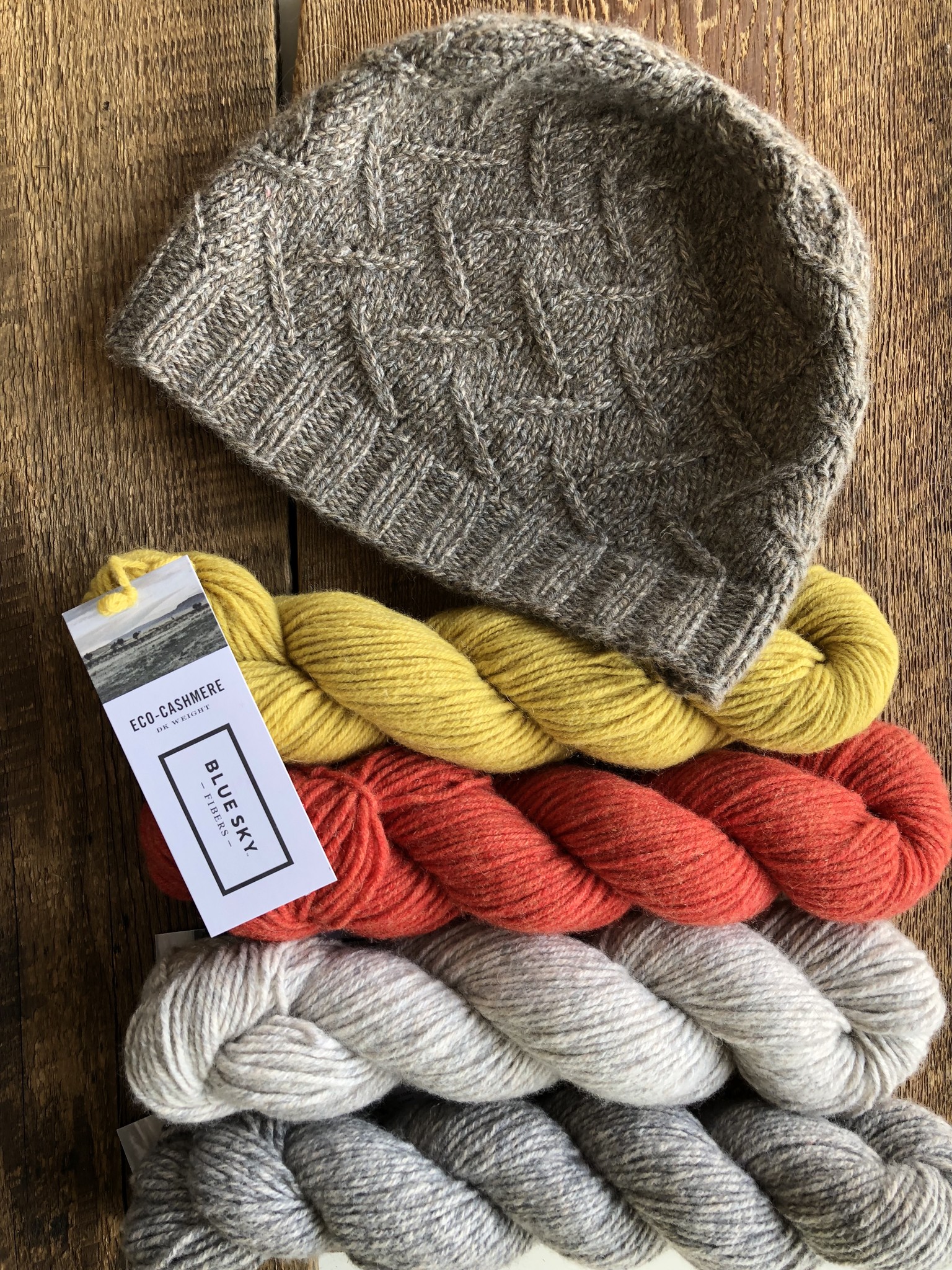 Danielle knit up a the Irma Hat by Aneta Gasiorowska in Blue Sky Fibres Eco-Cashmere. This yarn is so soft and huggable, made from 50% recycled cashmere and 50% virgin cashmere. Eco-Cashmere is sustainability crafted, luxurious, and light-weight with a unique lofty spin. It's listed as a DK weight yarn and the hat turned out so beautifully soft with amazing drape we know it'd be just perfect for a lightweight, luxurious sweater.
We always block our swatches so we can show off our hard work and let the stitches shine. Eucalan is our recommended no-rinse wash for all our handmade items. Mary Ellen Edgar is the founder of Eucalan and her story is an inspiring one. Her venture into the world of alternative laundry products all started with a visit to a friend in Australia who gave her a Ministry of Agriculture home remedy for a no-rinse laundry product for woolens. Living in the country and accustomed to economizing with well water and a septic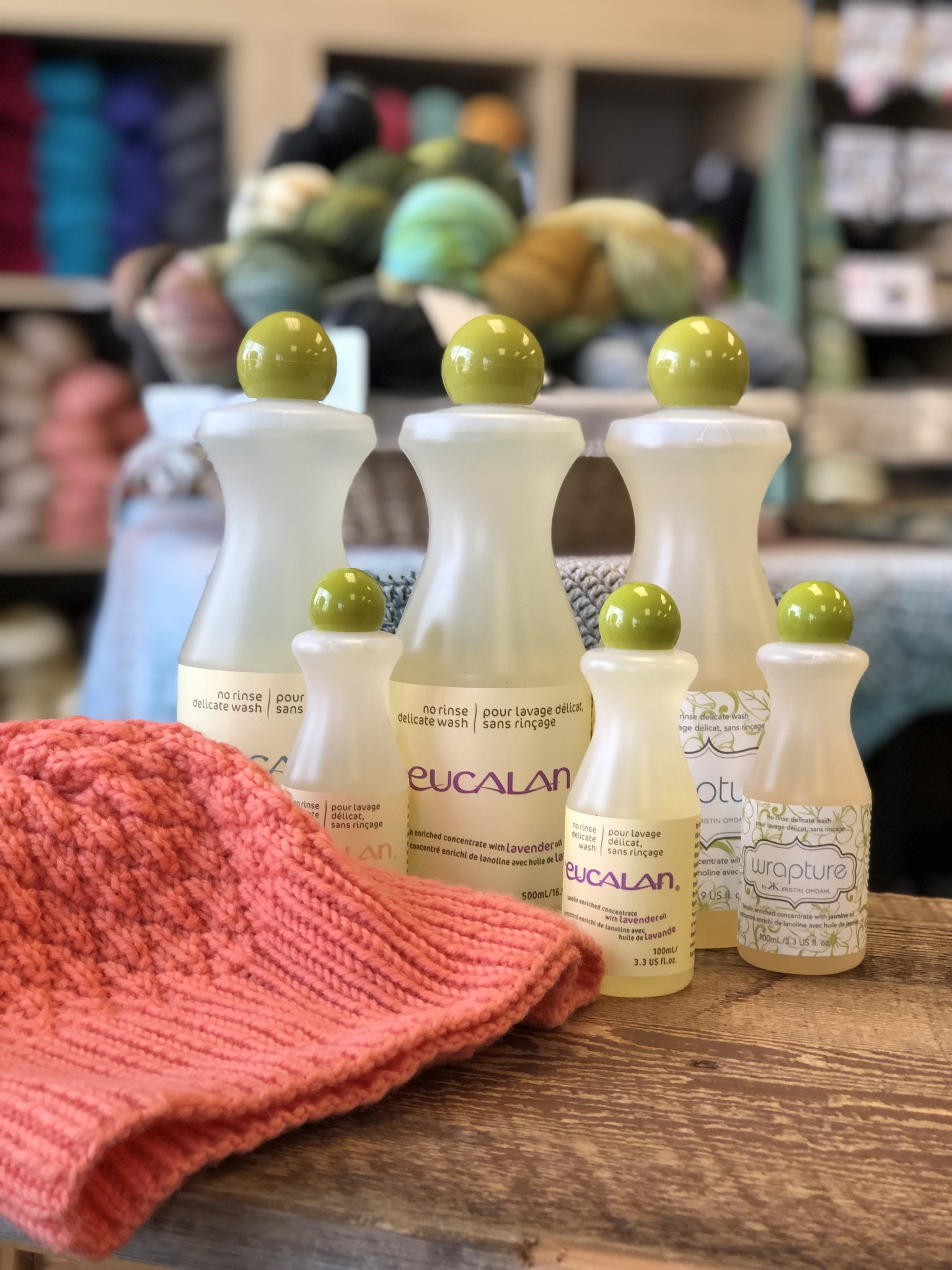 tank, Mrs. Edgar tested the formula herself and was amazed at the results; her husband's red and white Argyle wool sweater washed up beautifully and she saved time, water and energy because of the no-rinse benefit of the formula. We love that Eucalan is a Canadian family-owned company and ecologically focused, plus there's a scent for every crafter from Jasmine to Eucalyptus to Lavender and more.
You can find all the products mentioned above on our Spun Fibre Arts or in person at Spun, plus we offer a class in Wet Blocking where you too can learn how to give your finished projects the love and care they deserve.
We invite you to come visit us, chat with our yarn experts, squish the yarn, examine our samples and be inspired.